Distrito Federal Part 2 - Ligaya, Los Girasoles, Etc.
As promised, I continue to describe the assorted tummy treats experienced in our recent trip to Mexico City. I had done a little restaurant research on
Egullet
and
Chowhound
prior to our vacation to supplement the food finds our friends had already uncovered. Based on this, I chose a nouveau-Mexican place called Ligaya in the hip Condesa neighborhood where my friends live. The minimalist designed restaurant was all decked out in white broken up interesting and colorful contemporary art and tropical plants. It was the perfect place to get our friends together and spend our first night in a place where we could talk. I had a solid portobello mushroom appetizer, hongo portobello al horno – sounds so much more exotic in Spanish, and a flavorful arrachera (skirt steak) as an entrée. We threw back three bottles of wine between the six of us and had a blast. We all shared a rich, dense chocolate cake for dessert, which really was the highlight of the meal. Overall, I would say the food was not spectacular, but the company made up for it in spades.
Red Snapper at Los Girasoles
The best meal we had was at Los Girasoles or sunflowers on Tolsa Plaza not too far from the Zocalo (in fact, we took a pedi-cab from there). The restaurant has a nice patio sprawling out onto the plaza. Inside, the sunflower theme is apparent – the flower is featured in the dishes, artwork, and fabrics throughout the interior. I started with the beef tacos that came with tasty little nopales – cooked cactus pads that reminded me of okra. The red snapper topped with fried sweet potato straws was excellent. It was served with a mix of sautéed veggies like onions and peppers. Marty had the arrachera, which was more flavorful and tender than what I had tried at Ligaya.
Beef Tacos at Los Girasoles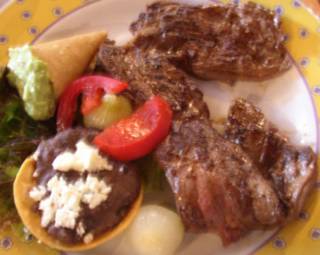 Arrachera at Los Girasoles
For our final evening in D.F., we went whole hog - or cow actually - for a meat-eating blowout. The name of the place translates to "follow the cow," and we did. At about $12 a person, we explored the variety of beef cuts and sausages brought unceremoniously to our table. Sure there were empanadas, French fries, soup, and salad, but those were for suckers. Well to be honest, I've recently decided my favorite food is salty fries soaked in steak juice, so I did house nearly a basket along side my beef. Anyhow, it was an exploit in excess. The meats we had were decent, but not nearly as good as what I've tried at similar churrascarias in the U.S. like
Fogo de Chao
in Atlanta. On top of that, the service was very slow. But considering the American experience would set you back nearly $40 a person, the relative value could not be ignored. Basically, think of it as a fun night of ridiculous over-eating.
Assorted Meats at Follow the Cow