Distrito Federal Part 1 - Huevos
Marty and I just returned from a fantastic visit to D.F. – Distrito Federal or Mexico City as you might know it. Our friends residing in the world's largest city were invaluable for two non-Spanish speaking tourists trying to navigate the city. We managed to avoid the cliched pitfalls – we didn't get kidnapped, robbed by our taxi drivers, or pick up any digestive maladies. Instead we were able to experience the Catedral Metropolitana which began construction in 1567 by Cortez and the Spanish missionaries right on the spot of the existing Aztec temple, D.F.'s version of Central Park, Chapultepec Park, complete with native pole dancers hanging from rope a hundred feet in the air, and perhaps most importantly incredible local cuisine.
Huevos with black beans, onions, and chilis
I could spend all day recording our culinary journey, but in light of a decidedly messy house, I figured that I had better divide up our trip into more digestible portions. Maybe because it's morning now, but the only thing I can think about are huevos. We had them every morning, and now back in New York with an empty refrigerator, I am going through serious withdrawal. It's inexplicable how something as simple as eggs can be elevated to such an art form, and why do the breakfast eggs that Americans settle for fall so flat in comparison?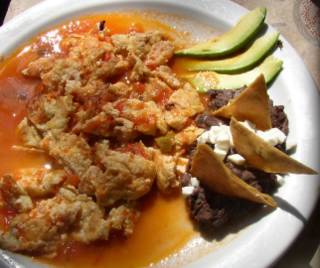 Huevos with salsa, beans, and avocados
I hope a picture does in this case say 1,000 words, because my previously mentioned inability to read/speak/understand Spanish somewhat impaired my ability to know exactly what I was consuming. You can get your huevos in myriad combinations - choose from frijoles refritos (refried beans), various cheeses, chorizo (a beef and pork sausage), tomatillo or tomato based salsas, and many more ingredients I could not recognize. Marty had one pleasant mouth tingling experience with a plate of huevos with chilis, onions and black beans. One of my favorite meals was comprised of two eggs sunny-side up placed neatly on a corn tortilla and covered with a thin poblano and cheese sauce. But, probably the most satisfying was the omelet made from an incredible chorizo, tomatoes, queso blanco served with a tomatillo sauce and fresh corn we had for brunch at the Four Seasons (unfortunately I didn't snap a picture).
Huevos Poblanos
Although huevos were a part of every breakfast, there were a few other memorable morning tastings. I tried out the crepas flor de calabaza which are crepes filled with a savory mix of spinach and squash blossoms topped with a rich cheesy cream sauce. Another consistent treat was the incredibly fresh juices served with each meal. The most interesting I tried was the foamy topped cantaloupe juice which was like biting into a perfectly ripe chunk of melon. We also sampled some extremely rich Mexican hot chocolate, which is not as sweet as the American classic and flavored with cinnamon and vanilla.
Crepas flor de calabaza (squash blossom)
Cantaloupe juice